EN 342:2017 EN ISO 13688:2013 + A1:2021
Ensembles and garments for protection against cold


Workwear clothing certification explained


The EN 342:2017 standard related to clothing designed for protection in cold environments ranging from chill (-5°C) through to cold store (-25°C) to deep freeze (-40°C).
The EN 342 standard is determined by four parameters (a,b,c) all detailed below:
The standard does not contain any specific requirements for head, hand or foot protection. however, sufficient protection must be worn along with a thermal base layer for this certification to apply.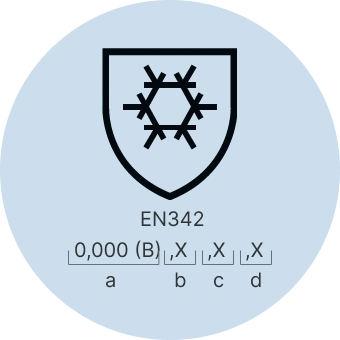 a. Thermal insulation properties with motion
Indicates the thermal insulation of the garment Icler (m².K/W), the higher the value the better the insulating properties. The (B) indicates that the item has been tested with thermal undergarments.
b. Thermal insulation properties without motion (optional)
This is an optional test which is measured the same as parameter a, but without any motion factored in.
c. Air permeability (1-3)
This indicates breathability of a garment, (1 highest, 3 lowest) breathability. A high air permeability allows for proper dry evaporative heat loss required to keep you warm and comfortable.
d. Waterproof penetration properties (1-2 optional)
Determines waterproof properties - this is not a requirement as garments being used in sub zero temperatures do not require waterproofing capabilities.
Do you need certified clothing?
View our collection of certified Clothing for general purpose, warehouse, chillers and freezers.